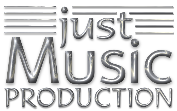 By phone: 07939 129967
By post: If you wish to contact Just Music Production by post, please phone or email for the address.
The PO Box previously used is no longer operational due to a huge price increase from Royal Mail. Sorry for any inconvenience this may cause.
By email by clicking here
By using this enquiry form.
Please fill in as much or as little as you want. No data will ever be passed to anyone else.

None of the information you provide is binding in any way - it is just to allow Just Music Production to respond to your query as accurately as possible.

If you answer "other" to any of the questions, please give details in the information box at the end.
Contact Just Music Production